ABOUT US
Want to live in Japanese nature?
Inawashiro lake in Konan, Fukushima is the forth largest lake in Japan, called "Tenkyo lake."
On sunny day, the beauty of Mt. Bandai reflecting from the lake will take your breath away.

Each and every season has each beauty
Cherry blossom | Spring give us energy and refresh.
Cool Summer | Comfortable wind from Mt.Bandai.
Fertility Autumn | There are a lot of the golden rice stalk.
Strict Winter | But we can't stop looking at the beautiful snow sights.
You'll have a special time as if you go back to your hometown...!
It is not luxury but must be a special memory for you.
OWNER'S MESSAGE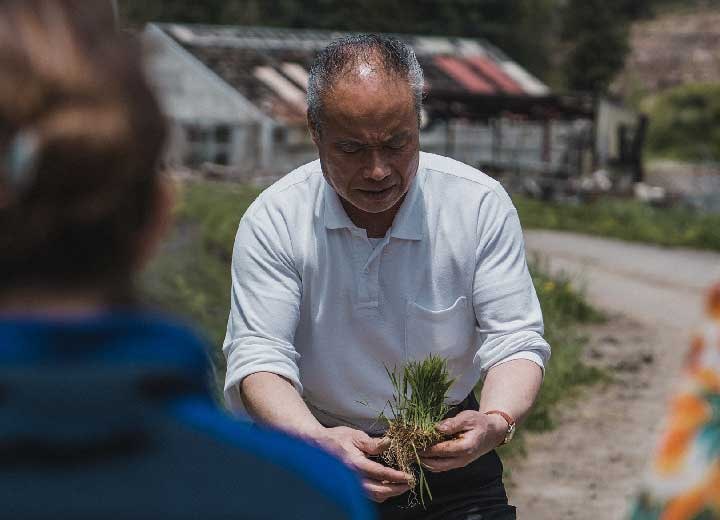 Thank you for visiting our webpage! I'm Ogura Shigeo, was born and grew up here, Konan in Fukushima. I'm famer in my hometown. I love here. In 2016, I opened this cottage here because I want all of you to feel Konan!
We suffered a very terrible earthquake and still have difficulties.So, we need your help.
I'm so happy when guests said, "I'm happy to come here!"
I'm looking forward to meeting you!
Ogura Shigeo
1954-
Famer, chiropractor,
Kindness and smile are my charms.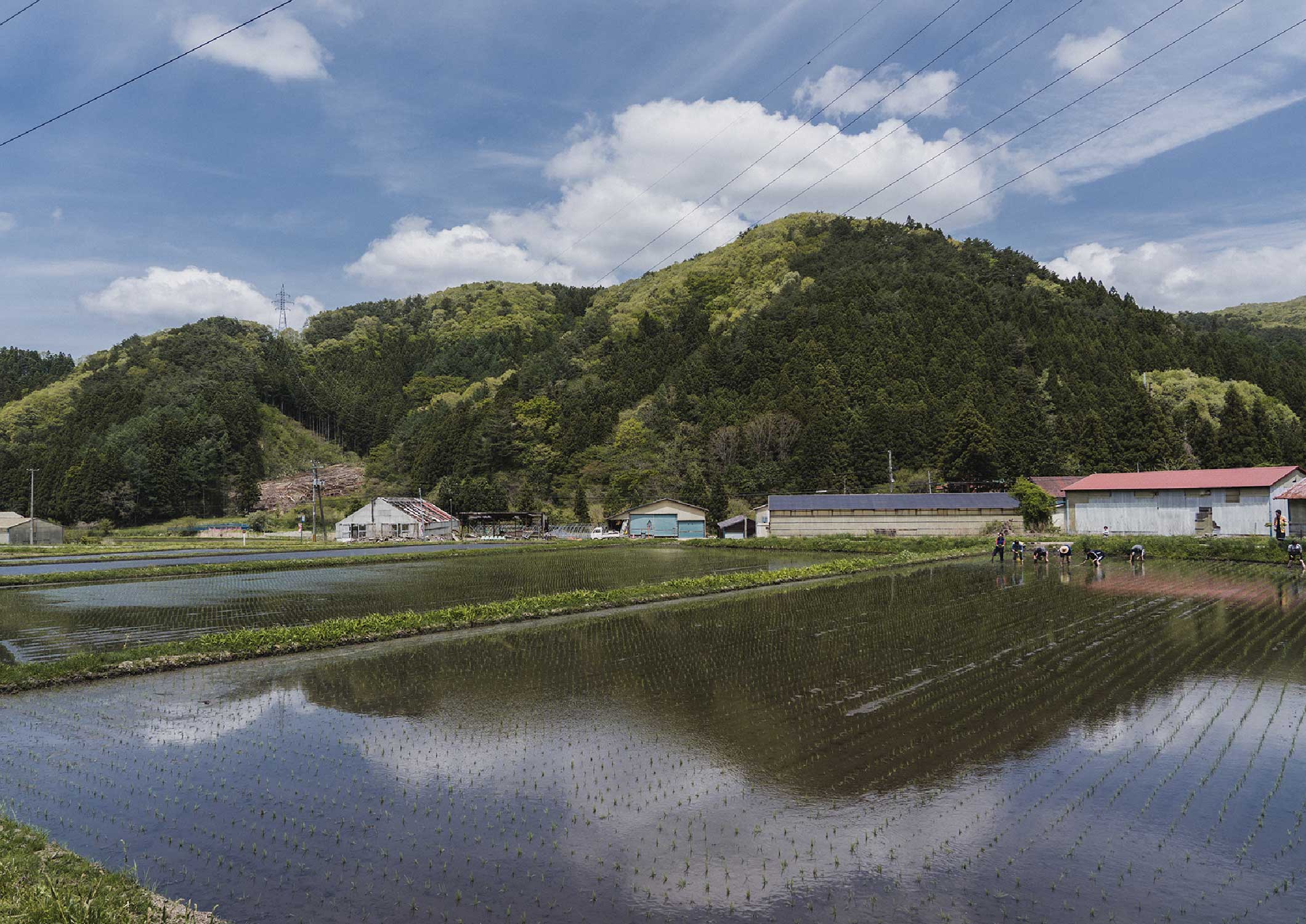 STAY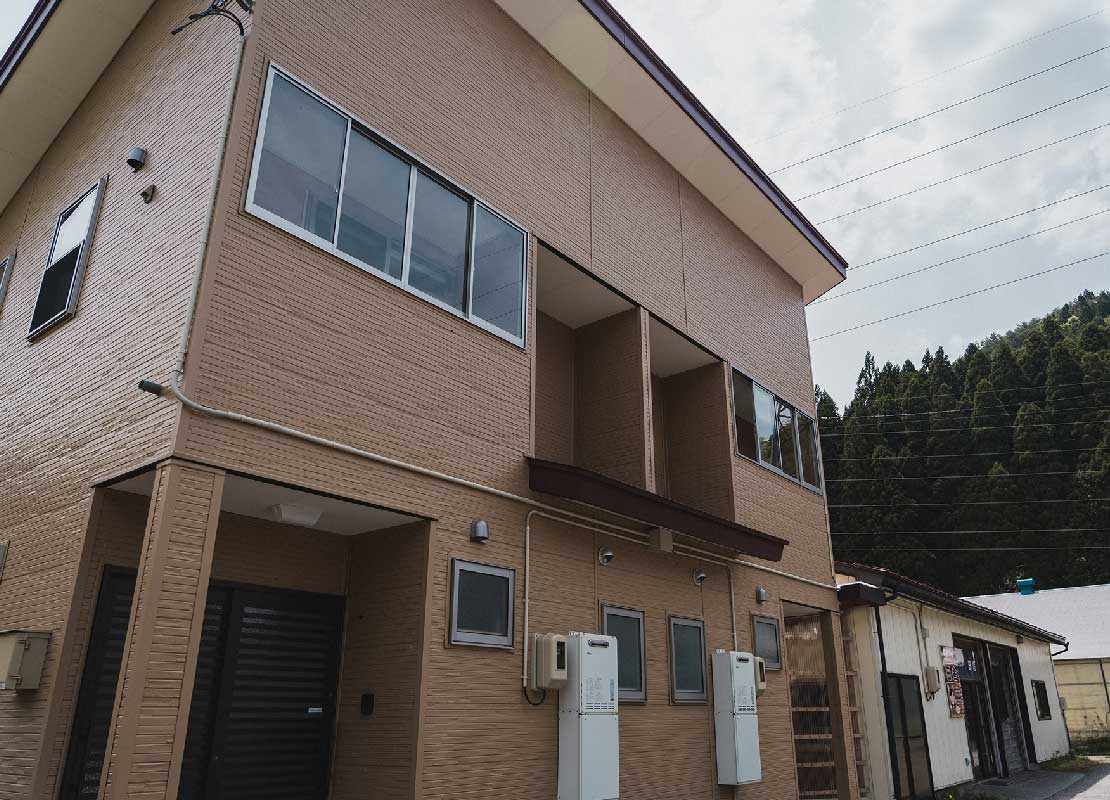 There are two cottages in Cottage Inaka. Both of them are 1LDK maisonette type with bath and toilet, as well as air conditioners, kitchen, refrigerator, and TV. We believe that staying here is a wonderful opportunity for anyone interested in countryside life/ for anyone who wants to gain new experience of countryside life.
Each of the cottages is divided into 1F and 2F, so you can keep your own privacy. The first floor is a shared space.
There is no standard menu in our service. However, upon your request, we can get Bento through delivery service or we can prepare you a BBQ corner. In addition, we are more than happy to provide a wide selection of local restaurants for our guests. Besides, If you are interested in camping, we would like to offer some interesting websites that you might want to check it out. For more information, please feel free to contact us.
Reservation of accommodation
CONTENTS
INAKA WORKSHOP Agriculture

Many people enjoy taking a walk through rice fields, ponds, and streams. And one more! Owner recommends experiencing agricultural activities such as planting seasonal vegetables or even harvesting them. Depending on the season of vegetable planting and harvesting menu will vary. However, it will surely be an unforgettable experience. You can grill vegetables that you harvest and eat them right away or take them home.

BBQ

Here is an ideal place for people to set fire to new experiences in rural life, grilled corn, local food, and BBQ picnic. You can enjoy it with fresh food. Surprisingly the heating furnace is made by owner. Also, we can offer you "special sauce" - our secret sauce that makes everything including cheap meet more delicious. In other words, the BBQ we prepare here won't let you down. Of course you can bring own food, but if you prefer us to prepare food, please make a reservation in advance.

CHIROPRACTIC

The owner is a popular local chiropractor. Customers are coming from outside the city as well as inside. Would you like to relieve your daily stress here? One of the attractions of this cottage is that you can heal your mental and physical health. There are various courses to suit your symptoms, so please let us know when you apply. Please inform us as soon as possible because it may not be possible depending on the reservation status.
ACCESS
SOUTH LAKE Cottage INAKA
Address

2633 Miyo-azanakanoiri, konan-cho, koriyma-shi, 963-1522, Japan
TEL / FAX

024-982-2339 / 024-983-7477
MAIL

kote-ji.inaka@outlook.jp
Access
[By Train]

From Tokyo, Sendai
Jouko station on the Banetsusaisen Line from koriyama-station on the Tohoku-shinkansen.(30minutes by taxi from Jouko station)


[By Car]

From Tokyo
the Shirakawa Chuo Interchange on the Tohoku Expressway→R294→Miyoshuku entrance

From Sendai
The Koriyama Junction on the Tohoku Expressway
→ the Inawashiro Interchange on the Banetsu Expressway
→to Koriyama direction at R49
→Turn right the Joutohama intersection to Konan